About Us
The Wellness Paradox podcast is a collaboration between the University of Michigan School of Kinesiology and Michael Stack.
Michael (see bio below) has a strong passion for how fitness and wellness coaching can result in human flourishing. At the same time, he is equally frustrated by how fitness and wellness professionals are divorced from the larger healthcare community. This paradox led to his partnership with U-M, an internationally renowned tier-one health sciences research institution, to address the frustration Michael shares with so many other fitness and wellness professionals.
The Wellness Paradox brings guests from all areas of medicine, public health, fitness, and wellness to provide engaging, evidence-based, information to fitness and wellness professionals. Our mission is clear and simple – to assist fitness and wellness professionals in enhancing their standard of practice, skills, and business acumen in an effort to become valued members of the healthcare continuum.
The Wellness Paradox Team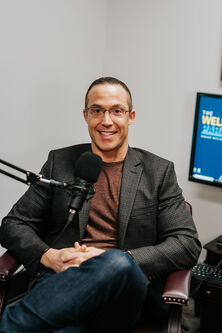 Michael E Stack, BS, ACSM-EP, ACSM-EIM, ACSM-PAPHS, CSCS
Michael Stack is a faculty lecturer for the University of Michigan's School of Kinesiology. He is the creator and the host of the Wellness Paradox Podcast, produced in conjunction with University of Michigan. Michael is also the founder/CEO of Applied Fitness Solutions and Frontline Fitness Pros.
Michael is an exercise physiologist by training and a health entrepreneur, health educator, and fitness industry advocate by trade. He is dedicated to enhancing the standard of practice of, and advocating for, fitness and wellness professionals to ensure they become an essential constituent in the healthcare delivery system.
With a career spanning over three decades in fitness, health, and wellness Michael has a deep knowledge of exercise physiology, health/wellness coaching, lifestyle interventions to mitigate chronic disease and leadership. He is credentialed through the American College of Sports Medicine (ACSM) as an Exercise Physiologist (ACSM-EP), Exercise is Medicine practitioner (ASCM-EIM), and a Physical Activity in Public Health Specialist (ACSM-PAPHS). Michael is a National Strength & Conditioning Association (NSCA) Certified Strength & Conditioning Specialist (CSCS), and a CDC Diabetes Prevention Program (DPP) Lifestyle Coach.
Michael received his undergraduate degree from the University of Michigan's School of Kinesiology in 2004 and is currently a Master's of Public Health (MPH) candidate at the University of Michigan, with a specific concentration in health behavior and health education.
Michael is a board of directors' member for the Michigan Fitness Clubs Association. He sits on the University of Michigan's School of Kinesiology Alumni Board of Governors. Michael is an expert curriculum reviewer for the American College of Lifestyle Medicine. Finally, he is a member of the executive leadership team for American Heart Association's Heart Walk.
Michael lectures nationally for several health/fitness certification and continuing educations, including; IHRSA, the Medical Fitness Association, the National Strength & Conditioning Association, and SCW Fitness.
To contact Michael, please email mike@wellnessparadoxpod.com