About Us
The Wellness Paradox podcast is a collaboration between the University of Michigan School of Kinesiology and Michael Stack.
Michael (see bio below) has a strong passion for how fitness and wellness coaching can result in human flourishing. At the same time, he is equally frustrated by how fitness and wellness professionals are divorced from the larger healthcare community. This paradox led to his partnership with U-M, an internationally renowned tier-one health sciences research institution, to address the frustration Michael shares with so many other fitness and wellness professionals.
The Wellness Paradox brings guests from all areas of medicine, public health, fitness, and wellness to provide engaging, evidence-based, information to fitness and wellness professionals. Our mission is clear and simple – to assist fitness and wellness professionals in enhancing their standard of practice, skills, and business acumen in an effort to become valued members of the healthcare continuum.
The Wellness Paradox Team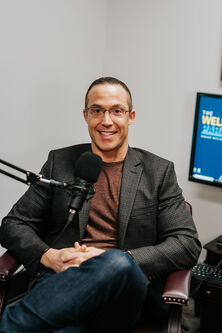 Michael Stack
Michael is an exercise physiologist and creator of the Wellness Paradox Podcast. He is also the founder and CEO of Applied Fitness Solutions.
In addition to his role with WP and AFS, Michael is a clinical professor for the University of Michigan's School of Kinesiology and Eastern Michigan University's Exercise Science Program. He also sits on the American Heart Association's Heart Walk Executive Leadership Team, is a member of the U of M Kinesiology Alumni Board of Governors, and is on the Board of Directors for the Michigan Fitness Club Association.
Michael received his Bachelor's Degree in Kinesiology from the University of Michigan and is currently a Masters of Public Health Candidate at the University of Michigan. Additionally, Michael is an American College of Sports Medicine Exercise is Medicine Level II practitioner (ACSM – EIM Level II), a National Strength & Conditioning Association Certified Strength & Conditioning Specialist (NSCA-CSCS), Center for Disease Control Diabetes Prevention Program Lifestyle Coach.
Early in his career Michael was employed by Bally Total Fitness for seven years as a Master Personal Trainer, where he earned numerous distinctions and awards as one of the top personal trainers in the organization; including in 2004 when he was bestowed the honor of Personal Trainer of the Year.
After working in the "big-box" gym environment for so long, eventually Michael grew weary of the lack of connection and direction most of the members were given access to. It was either: hire an expensive personal trainer (which some people couldn't afford much less sustain) or be left on your own. It was the frustration with this gap in service that inspired Michael to start Applied Fitness Solutions.
Further, after a long career in commercial fitness Michael realized the broader public health void that exists, developing a strong passion for the creation and dissemination of content and knowledge related to advancing public health, health sciences, and human flourishing. This led him to create the Wellness Paradox podcast, as well as back to U of M for his Master's in Public Health studying health promotion, health education, and behavior change.
He's formerly the educational events director for StrengthPro, Inc., and is a former co-chair of the Arnold Strength Training Summit. Michael is a highly sought-after educator and exercise scientist, who has lectured to, and worked with a diverse population with respect to all aspects of health, fitness, and human performance.
Michael 's incredibly passionate about disseminating the science of exercise physiology, public health, and wellness to all populations and is specifically interested in making that information more accessible to the masses.
To contact Michael, please email mike@wellnessparadoxpod.com