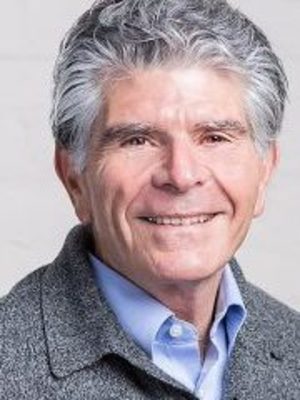 In episode 7 we're joined by Oran Hesterman, the founder and CEO of Fair Food Network, a national nonprofit headquartered in Ann Arbor, MI on a mission to grow community health and wealth through food. This includes its Double Up Food Bucks program that doubles the spending power of individuals on SNAP, or food stamps, helping them bring home more fruits and vegetables while supporting local farmers. Our conversation spans topics related to the Double Up program as well as a larger discussion on the social determinants of health and the role of social programs in making our society healthier.
Our Guest: Oran Hesterman
With more than 35 years of experience as a scientist, farmer, philanthropist, businessman, educator, and passionate advocate, Oran B. Hesterman is a national leader in sustainable agriculture and food systems and is a respected partner for policymakers, philanthropic leaders, and advocates nationwide.
He currently serves as Founder and CEO of Fair Food Network, a national nonprofit on a mission to grow community health and wealth through food. The decade plus it has spent testing and growing scalable solutions has led to big changes in communities. First through Double Up Food Bucks, which today is a national model for healthy food incentives in 28+ states, and now through Fair Food Fund, which is investing in good food entrepreneurs so they can be engines of a more equitable tomorrow.
Before launching Fair Food Network, Hesterman led the W.K. Kellogg Foundation's Integrated Farming Systems and Food & Society programs, during which time he seeded the local food systems movement with more than $200 million in investments. Prior to his work in philanthropy and nonprofits, Hesterman researched and taught forage and cropping systems management and sustainable agriculture at Michigan State University.
A former fellow in the Kellogg National Fellowship Program and the National Center for Food and Agriculture Policy in Washington, D.C., Hesterman has published more than 400 reports and articles on subjects ranging from crop rotation to the impact of philanthropy on food systems practice and policy and trends in the good food movement. He currently serves on the board or in an advisory role for a number of national and Michigan-based organizations including Fair Food Fund portfolio company Five Acre Farms, Groundworks Center, NextCycle Michigan, and Pardes Hannah Jewish Renewal Community.
Hesterman is a native of Berkeley, California. He earned his bachelor's and master's degrees from the University of California – Davis. He completed his Ph.D. from the University of Minnesota in agronomy, plant genetics, and businesses administration. He lives with his wife Lucinda Kurtz in Ann Arbor, Michigan, where he still gets his hands dirty in his garden and at the potter's wheel.
Helpful Links Mentioned in the Podcast: